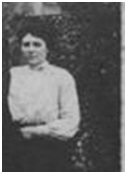 In 2004, an article appeared in a family tree magazine entitled "False Rumours – A Wartime Tragedy" being an account of the tragic death of William Smith, headmaster of Henham and Wangford School in Suffolk. Unfortunately, I missed it and had I been reading it that year, the words would have leapt off the page, as this was a story about people in my family tree.

Alma Morse born 1863 in the Forest of Dean, Gloucestershire, was my grandmother's cousin. I had been researching the Morse family in this area for many years and had found Alma in the 1881 census as a pupil teacher residing at Yorkley with her parents Edmund and Theophila Morse. Unlike most girls in the Forest who usually went into service, Alma went into teaching and, in 1886, married a fellow teacher, William Smith, a blacksmith's son from Okehampton in Devon. After their marriage the couple ran the village school in Henham, three miles from Southwold, on the east coast. I imagined their lives in an idyllic part of the country to be happy but uneventful. However, I was curious enough to post a message on to the Curious Fox website, in case anything was known about them but was not hopeful of a response, especially with a name like Smith.
How wrong I was. I received a reply from Angela Lawrence from Woodbridge in Suffolk. She was not related but had some shocking news to impart. This information had also been seen by Mary Wilson who had been inspired by a headline in the Halesworth and Southwold Times of 1914 which read "Tragic death of William Smith, Headmaster of Henham and Wangford School." A phone call to Angela revealed the full extent of the tragedy that had also prompted her to delve into the story, which would form the basis of a book that she had started to write.
On 4 November 1914, at the age of 52, William Smith was found dead in a shed at the rear of his house with his throat cut. What was the reason for this tragedy? An article in the East Anglian magazine in 1954 said that "William died as a result of village gossip, of idle tittle-tattle nothing more."
As the story unfolded I could not believe it. Several years before WW1 William had visited his son Ted, who was living at Aachen in Germany to study the language. In the past they had had at least two German girls to stay with them on exchange visits and the 1911 census shows a student from Lubeck in the Smith household. Nothing very remarkable in that but this was the start of WW1 and anti- German feeling at the time helped to fuel vicious rumours. It was alleged that William had spoken out against the war and even suggested that his son-in-law was German, which was completely untrue. Even the fact that he didn't speak with a Suffolk accent went against him; when he replied that he was born in Devon, he was told that he didn't sound like a Devonian either.
William had been headmaster of the school, along with his wife, for thirty years and took a leading part in village life, he was a parish councillor and involved in many church activities. As he was such a popular and well respected figure it seemed strange that such a pillar of the community would be driven to take his own life. At the inquest into his death the evidence against him was of village gossip and rumours which had been reported to the police.
On 31 October he had been served with a notice to quit the area under War Office Regulations, Defence of the Realm Act passed in August 1914, which stated that "His Majesty had power during the continuance of the present war to issue regulations for securing the public safety. And whereas an order dated 30 October 1914 has been made by the competent authority under the regulations, you, your wife and family (if any) are hereby required to cease to reside in the county of Suffolk, or in any proclaimed or prohibited area, and to report your departure to the police before you leave and your arrival to the police at the place to which you go."
Five days after receiving this notice, William took his own life. In her article, Mary Wilson describes how she found another shocking headline "Henham Tragedy" dated 19 January 1915. William's widow, Alma had also committed suicide less than three months after her husband's death.
After William's funeral, Alma visited her in-laws in Devon, accompanied by her son Ted, who had recently returned from Guatemala. Ted had gone to collect their luggage from the station in a pony and trap but on his return he found the schoolhouse locked, his mother nowhere to be found. He broke into the house and to his horror discovered his mother hanging from the bannisters. I was astounded by this and wondered if my grandmother, Alma's cousin who would have been aged 34 in 1915, had known about this?
The cause of Alma Smith's death was "Suicide by hanging herself while of unsound mind caused by excessive worry in connection with the tragic death of her husband and the circumstances in connection therewith."
In 2007, I contacted Angela Lawrence and she arranged for me to not only visit Henham School, now a private dwelling, but introduced me to a local historian who showed us the grave of William and Alma in the churchyard of St Peter and St Paul, Wangford.
The inscription read:
"This memorial was erected by their scholars and friends in the Wangford and Henham parishes in testimony of appreciation of their valuable services for over 25 years, schoolmaster and schoolmistress of the above parishes."
The funeral held at this church for William was attended by a large gathering. The school children all carried chrysanthenums which they placed on the coffin. On the following Sunday many tributes to William's work were paid in the neighbouring churches. The East Anglian Times reported that "the one thought uppermost in the minds of many was regrets that they were unable to show their confidence in Mr Smith and thus to save his life."
Angela completed her book "Rumours" based on this true story and it was published about five years ago. I am the only relative that Angela has traced. William and Alma's daughter Gladys, who was blind and epileptic, died in 1909 and is also buried in the churchyard. Another daughter Evelyn Edith died in 1988. Ted, who was a teacher of foreign languages, after serving as a 2nd Lieutenant in the Army Service Corps during WW1, died in Maidenhead, Berkshire in 1953.
In conclusion, I am lucky that someone from outside the family brought it to my attention. It has been a fantastic, if sad, journey of discovery and is especially poignant in this centenary of the outbreak of the First World War.
Janet Rigby
Member 1314