Elizabeth (Lizzie) Ann MARTIN was baptised at St John the Baptist church, Frome, on Whitsunday 15 May 1853. Her parents were James Charles (occupation cordwainer [shoemaker]) and Mary MARTIN of Milk Street, Frome.1
Aged 17, Elizabeth gave her occupation as pupil teacher, of 81 Milk Street, in the 1871 UK census. A Frome vicar arranged for Elizabeth to be a nursery teacher in Folkstone.2
In 1877, Edward ASHLEY (age 23), a missionary teacher at the time, returned from the USA to marry Elizabeth Ann MARTIN (age 24), spinster of Milk Street on 4 October 1877 (following banns on 16 and 23 September) at St John the Baptist church, Frome. Witnesses were the bride's father (shoemaker) and elder sister Lydia MARTIN.
Following their marriage, Edward and Elizabeth sailed from Bristol (near Frome) on the SS Arragon3 and arrived at the port of New York, New York on 23 October 1877. The immigration record (as advised by cousin Vicki) contradicts arrival as Castle Island, [South Boston, Massachusetts] with Elizabeth's occupation recorded as pupil teacher.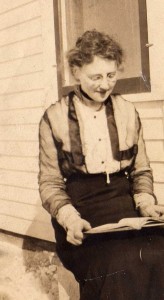 Elizabeth is said by her family to have been a school teacher to the Native Americans and personally knew Chief Sitting Bull. Reverend Edward ASHLEY (1853-1931) also earlier knew General Custer.
The 1880 United States Federal Census4 records Edward ASHLEY, age 26, occupation divinity student, Elizabeth (age 26), occupation keeping house and Jessie H., age 1, birth year abt 1879 Dakota Territory, of Faribault, Rice, Minnesota.
No record has been found for this ASHLEY family in the 1890 United States Federal Census which is not surprising since many records were destroyed by a fire at the Commerce Department in Washington.
At some point, however,  Elizabeth sent home to Frome these Indian beeded gloves which are still in the family as a cherished reminder of our links with Dakota.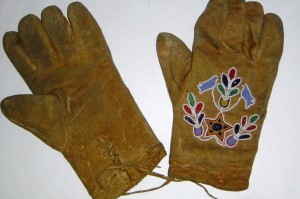 The 1900 United States Federal Census records Elizabeth A ASHLEY, age 45, birthplace England, home in 1900 of Cheyenne River Indian Reservation, Dewey, South Dakota, race white, immigration year 1877, years married 23. Other Ashley household members were: Edward, age 45, immigration year 1873, birth date December 1854, occupation clergyman; CJW (female), age 21, born South Dakota in December 1878; Edward A., age 18, born South Dakota in December 1881; Martin A., age 16, born South Dakota in April 1883; William C, age 13, born South Dakota in February 1887; Robert L., age 9, born in South Dakota in July 1890.
Elizabeth died on 28 December 1915 and was buried at the Riverside Memorial Park, Aberdeen, Brown County, South Dakota, USA.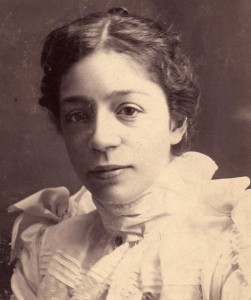 Winona (Elizabeth's oldest child) is known to have corresponded with her cousins in Frome from at least 1918.
Although the originals of the letters sadly no longer exist, someone in the family in the US had the foresight to transcribe them to a typed version so they may be shared with future generations. This exchange of family news and current affairs, including the family's participation in WWI, from across the pond continued until at least 1952, albeit the cousins changed over that time. That first letter from Frome did reveal that Elizabeth had visited her birthplace many years earlier with her youngest son Bob. These letters have, on occasion, given me a very personal insight into the lives of my own direct ancestors.
—————
1 Frome Hundred CMBs 1846-1864
2 Corresponding Cousins letter dated 24 November 1920
3 New York, Passenger Lists 1820-1957 (c/o Ancestry UK)
4 All US Federal Census records obtained from Ancestry Library Edition
Gordon Martin
Member 1210