George was the last of seven children of the globe-trotting William Henry Sillifant. His father was noted as a plasterer in the 1891 and 1901 censuses for England and Wales, and George appears to have followed in his footsteps in the profession.
After returning from their travels in New Jersey, USA and Toronto, Canada, the Sillifant family settled in Lancashire, first in Chorlton and then Hulme. In 1891, George was noted as a scholar aged 6 living at 17 Belleck Street, Hulme (Source: RG12/3197/89/43) with his widowed father and five siblings (his sister Mary died aged just 14 days old in 1878).


In 1901, George aged 16 and his father William are both boarding at 8 Eden Street, Manchester with George being referred to as a plasterer's apprentice – presumably his father was teaching him the trade.
Sadly, George lost his father a year later when he was just 17. Although George's siblings were easily located in the 1911 census, George was nowhere to be found. This would seem to be because he had the globe-trotting bug and he has been found on the SS Campania shipping manifest, arriving in New York in January 1911. He then appears in border crossing manifests from Canada back to the USA, arriving into St Albans, Vermont, in September 1908 from Moncton, Canada and this crossing occurs again in 1915 but the difference here was that his wife, Gladys, was noted in the column 'name and complete address of nearest relative or friend in country whence alien came':

George Edward and Gladys' marriage has yet to be located but Gladys is known to originate from Wrexham, Wales, being born as Gladys JONES – oh joy! This information has been gleaned for her border crossing card in January 1915: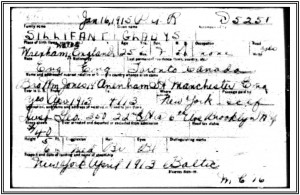 George served in the Royal Navy during World War I, enlisting in March 1917, and he transferred to the Royal Air Force when it was formed on 1 April 1918.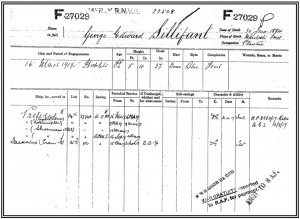 Above, George Edward's Royal Navy record and below, portions of his RAF record (ADM 188/614/29)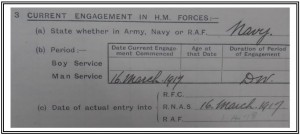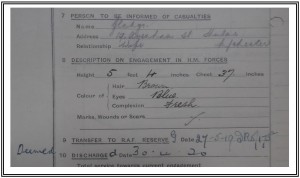 George and Gladys return to the USA very shortly after the end of World War I and George's uncle – his late father's half-brother Francis James – is referred to in the shipping manifest on their return aboard the Baltic.
George and Gladys settled in Williston Park, Nassau, New York it would seem and they are present there in the US Federal Censuses of 1930 and 1940, with their two children, Alfred Edward and Grace born in 1926 (29 June) and 1930 respectively.
At some point, George and Gladys were granted US citizenship by naturalisation though the exact date of the petition and declaration is not clear.
George died in February 1975 with his last known residence noted on the SSDI (Social Security Death Index) as 11783 Seaford, Nassau, New York.
Gladys' death has not been located and no further information is known about Grace after 1940. Alfred still resided in New York State until at least 1996 and he does not appear to have passed away according to available records.
Kirsty Gray
Member 1002