Edward Tivey, stocking weaver by trade was born in the town of Melbourne, Derbyshire 6 Feb 1782. His birth is mentioned in the registers of Melbourne Baptist church though no parents were listed – it was usual for the children to be baptised in early adulthood and unfortunately, records for the late 1790s/early 1800s have perished. Edward married Sarah (Sally) Dolman, 27 Apr 1800: Edward and Sally had 6 children that survived infancy:
Ann 1801, Edward 1804, Joseph 1809, Sally 1812, John 1813 and Samuel 1814
Edward's wife Sally died at a young age. Although Edward probably found it hard to cope with bringing up his children and working, unlike many men of his era, Edward chose not to remarry until years later.
Apprenticeship papers confirm that at the age of 14, eldest son Edward was apprenticed out to Joseph Dolman, a stone mason of Loughborough, Leicestershire, while second eldest son, Joseph, was apprenticed out to John Perry, a steel toy manufacturer of Aston, Birmingham at the tender age of 12. Edward also married off his daughters as soon as it was possible to do so: Ann marrying John King aged 16 and Sally marrying John Elsey on her 16th birthday. It is thought that John, the second youngest child, was also apprenticed out at a young age, as by the 1841 census he was residing in Birmingham, a shoe maker by trade.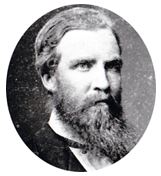 Samuel (left), the youngest child of Edward, became a lace maker, he married in Derby in 1833 to Phoebe Wilde (right). By 1841 Samuel was residing in Nottingham St Peter. Family rumour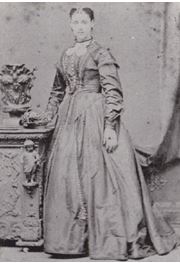 has it that Samuel and Phoebe inherited part of a lace manufacturing business, John Wilde & Co, in Nottingham from Phoebe's side of the family during the 1840s, though the author personally hasn't seen any evidence of this. It is thought that once mass industrialisation of lace making was being introduced, they sold their shares in the business to help pay for passage to Australia.
In 1848 the family travelled to London and set sail from Deptford bound for a new life in Australia. Samuel and Phoebe's eldest child Joseph, aged about 14 at the time, wrote a diary of the voyage which is now kept at the State Library of New South Wales. The following is a word for word transcript of the diary – the spelling and grammar has not been altered in any way:-
This account of the voiage to South Australia is written by Joseph Tivey, a passenger in the Ship called the Bermondsey which started from Deptford on Wendsey August 23rd 1848 at ½ past four Oclock she was toed down the Thames by the Steam Packet the Fairy and a merry crew we are dancing and singing. There is 200 of us to say there is so many of us I never saw such good regulation in my life. The beds are buettiful she is 600 tons Burthen. There are fowls and pigs on Board. We stopt at Gravesend all Night. Thursday August 24th at Anchor all day at Gravesend. Friday August 25th still being at Anchor at Gravesend nothing of particular account. Saturday August 26th we heaved Anchor at 3 Oclock in the Morning and we are going at a good rate. Stopt at Deal for the Night. Sunday August 27th tremendous rough winds but we were tacking about all day but did not sail three miles. Monday August 28th. Nothing remarkable to day. Tuesday August 29th heaved Anchor at four Oclock and are sailing buetiful between Dover and Calais. Wensday August 30th still sailing along the Kentish Coast. We have been out of sight of Land Once to day but came in sight again about 4 Oclock and past Brighton at ½ past 6 Oclock, we are sailing delightfully to night. Thursday August 31st we have been sailing fast all night, there are but 15 English on board they are all Scotch. I have heard of sunrise at Sea I have seen it this Morning it is Grande we have been Sailing fast all night we Sailed about 100 Miles to Night. Friday September 1st we have taken our Last Farewell of Old England we left it at 5 Oclock this Morning we shall not see Land again for a Long time. We are sailing slowly. September 2nd. This morning we entered the Western Ocean and are going at a good rate we have seen neither Land nor Birds this day or two. We are sailing at a good pace to Night. Sunday September 3rd. We are sailing at a extra good pace to day. Monday September 4th. Sailing Moderately. Tuesday September 5th in the Morning the sea was very calm till about 10 Oclock and the wind rose and the Sea was very Boisterous the remainder part of the Day. We sailed very fast all the Day. Wensday September 6th. Sailed Slow all the Day. Thursday September 7th. Sailed Slow all the Day. Friday September 8th. Sailing very Slow all the Day. Saturday September 9th the Sea being very calm we Sailed very Slow all the Day. Sunday September 10th to day there has been several Porpioses and a Shark 12 feet long. Sailing Slowly all the Day. Monday September 11th Sailing faster to day. Tuesday September 12th. In sight of the Island of Madeira from 7 Oclock-A.M. till 4 Oclock P.M. There is a Buetiful Bresse to Day we are sailing Delightfully to Day. Wensday September 13th. A strong wind and Sailing very fast all day and night. There has been several large fishes caught to day merely by a strong hook and a piece of white rag fastened to the hook and a Strong rope. They were cooked and were very good not much unlike Salmon. Thursday September 14th. Sailing faster to Day. Friday Septem 15th. Sailing at a good pace to day. Saturday Septem 16th. We Overtook a Vessel that had been six weeks coming from London bound for Port Adelaide. She is a very Slow Sailing Vessel. We soon got past her. Sunday September 17th. The Wind is very rough to day and a heavey Sea Sailing About 10 miles an hour and raining all day. Monday September 18th. Sailing at a middleing rate to day. Tuesday September 19th. In the Afternoon we saw 2 large Whales both together twas a buetiful sight to see them spirting the water into the air. Sailing Slowly today. Wensday September 20th. Sailing rather faster to day. In sight of one of the Cape de verd Islands. Thursday September 21st Sailing at a good pace to day. Friday September 22nd. Sailing at a good pace to day. Saturday September 23rd Sailing Slowly to day. Sunday September 24th. Sailing Slowly in the Morning but in the afternoon there was heavey rain and sailing faster. Monday Sepr 25th. Sailing at a good pace to day. Tuesday Sepr 26th to day there has been a many large Porpises playing about the head of the Vessell. Wensday Sepr 27th. Sailing at a good pace to day. Thursday Sepr 28th. The Same. Friday Sepr 29th . The Same. Saturday Sepr 30th the Same. Sunday October 1st. Sailing Slowly to day. Monday October 2nd. There has been a many large porpises near the head of the Vessell the Mate struck two of them in the Back with the harpoon one of them very bad when the last was struck they all disapered. Tuesday October 3rd. This Morning a little girl died at 5 Oclock and was buried at 12 Oclock on the day. Sailing at a good pace to day. Wensday October 4th. Another little girl died at 7 Oclock in the Morning and was buried at 4 Oclock in the Afternoon at night there was a many large Grampus[4] near the Vessell. Sailing rather Slower to day. Thursday October 5th. Sailing at a good pace to day. Friday October 6th. To day we have crossed the Line. To night there have been a good deal of Merryment with throughing water as it is a general custum at crossing the Line. We carried it on from about ½ past 7 till 10 Oclock almost all were wet to their Skin both Men and Women it was all done on Deck. Satury October 7th. Sailing at a good pace to day. Sunday October 8th. The Same. Monday October 9th The Same. Tuesday October 10th The Same. Wensday Octr 11th The Same. Thursday Octr 12th. Rough winds and rather Squally. Friday Oct 13th Rough winds and very Squally. Saturday Octr 14th Sailing Slowly to day. Sunday Octr 15th. Sailing at a good pace to day. Monday Octr 16 The Same. Tuesday October 17 The Same. Wensday October 18 The Same. Thursd Octr 19th The Same. Friday Octr 20 Sailing at a very good pace to day. About 6 Oclock P.M. There was a heavy Puff of wind which sent the Vessell upon her beamends but she was soon recovered again. Saturday Octr 21st. We have now got into the Cape Weather it is very rough and heavey Sea the waves almost every 2 or 3 minutes coming over the bulwarks on to the Deck. This Morning we came in sight of a Ship but the Wind being so rough we could not speak to them. Sunday Octr 22 To day there are many Cape pigeons and Cape hens flying about some of them[5]are all black and some are black and white[6], the latter are very pretty. Monday Octr 23 About 9 Oclock A.M. The Vessell struck on a sand bank which shaked the Ship very bad and it caused a curious sensation throughout the Ship, but as she was going at a good pace it did not stop her. Tuesday Oct 24th. Sailing at a good pace to day. Wensday Octr 25th The Same. Thursday Octr 26th The Same. Friday Octr 27th The Sea is Calm to day and very little wind so we are sailing slowly to day. Saturday Octr 28th The Sea being calm a line was put out at the stern of the Vessell with a hook bated with a piece of Pork to caught Cape Hens. A bird took the bate and was hauled into Vessell. It was larger than a full grown goose it was Measured across the wings and was 6 feet 8 inches it was webfooted and its feathers were very thick it did not seem at all frighted at being caught when it was hauled up it was followed up to the Stern by all its other Companions it was killed and eat and was very good. Sunday Octr 29th. Sailing at a good pace to day. Monday Oct 30th. The Same. Tuesy Oct 30th. There has been 4 Cape Peigens caught this Morning the Sea being Calm. We are in sight of 2 Vessells one ahead of us and one astern the one ahead of us we have been in sight of for 2 or 3 days now and then the Breese has freshened again about 7 Oclock and are sailing at a good pace still in sight of the Vessells. Wensday November 1st To day there is a very heavy Sea, and have lost sight of both Vessells. Thursday November 2nd. Sailing at a good pace to day. Friday Nover 3rd This morning there is a Vessell ahead of us and about 12 Oclock we began to Signalise her her name is Sarah Ann Wallace from Liverpool and we have been 4 days longer out at Sea than them in the Afternoon we passed her and we came in sight of another Vessell. Saturday November 4th Very heavey Sea to day and a rough wind. About 6 P.M. Oclock we saw 2 large Whales not many yards from the Vessell. Sunday November 5th. We are in sight of a Vessell by the side of us going the same road as us but at night She got Ahead of us and got out of sight. Monday Novemr 7th Another Child died this Morning and at Sunset was slung into the deep. Wensday November 8th. Sailing at a good pace in the Morning but in the Afternoon and night the sea was very Calm. Thursday November 9th Sailing at a good pace to day. Friday November 10th Nothing remarkable not till Wensday November 13. To day there has been a large Albatross caught with a line put out at the stern bated with a piece of pork it was measured across the wings was 10 feet 6 inch. Thursday November 16th today there has been 4 large Albatross caught today there has been 9 large hooks broken the Albatross one that was hauled up very near the Vessell and it broke the hook and got off and it was so very much fatigued it sunk in the water and was drowned. Friday November 17th— Saturday November 18th — Sunday Novembr 19 — Monday November 20th to day the Sea is very Calm and we are not sailing above 2 miles to the hour. Tuesday November 21 the Sea being Calm we are Sailing very Slow. Wensday November 22 The breeze has freshened up to day and we are sailing very well. Another Albatross has ben caught this day. Thursday November 23rd. Sailing at a good pace to day. Friday Novr 24 Sailing at a good pace to day. Saturday Nover 25th The Same— Sunday December 4th Another Child died this Morning and was buried at 4 Oclock. Monday December 5th. To day about 5 Oclock we entered the Straits with a fair wind. To day we have had a very heavy Sea and about 6 Oclock P.M. we had a very heavey Sea gale of Wind and had a Thunder Storm. The Sea rooling almost Mountains high. Tuesday December 6th This Morning we were Surraunded by large and Small Islands or Rocks there were 7 of them. Several of them we passed within about 50 yards it was a bueitiful sight to see them. About 10 Oclock we lost sight of them and came in sight of another Island called hog Island lost sight of it about 11 Oclock a very heavy sea to day. Sailing at a good pace to day. Wensday Decr 7 To day we are sailing along the Australian Coast called Long Beach this morning we saw the Masts of a Ship but lost sight of it again it being a misty day. Thursday Decr 8th. To day we came in sight of Twofold Bay Lighthouse about 3 Oclock we entered the Bay at 4 Oclock and a pilot came on Board and we droped Anchor about 5 Oclock and we were soon surrounded by small Boats full of men to look at us. Wensday December 14th Landed at Eden at Twofold Bay. Stoped at Eden all day and Night and started with the bullock drays for Maneroo[7] we Travelled 14 Miles and stopt at Pambula for the Night.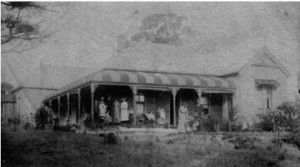 The family arrived in Eden, Twofold Bay, New South Wales on 8 Dec 1848 and proceeded to Menare to take up land at Nimmitabel. The family became one of the pioneering families in the Australian district of Monaro, New South Wales. Their house at Mole Station is picture right.

Joseph Tivey (below), diary writer and son of Samuel and Phoebe moved away from the family home in the 1850s and joined the hunt for gold in the state of Victoria. He married Tasmanian, Margaret Hayes,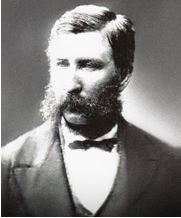 and set up as a shopkeeper and victualler in Brooke Street, Inglewood, selling food and drink to the gold prospectors. The business soon blossomed and Joseph became quite wealthy, settling in the town where he brought up a reputed 14 children (I have so far only found records for 10 of them). In 1879 he purchased three plots of land in Inglewood, and hired a local builder named William Garland to build him a property which would accommodate his large family. The house, which cost a total of £1300 to build still stands today and, in 2006, The Inglewood and District Historical Society erected a Blue Plaque outside the Tivey Mansion on Verdon Street, Inglewood:
TIVEYS HOUSE 'NIMMITABEL'. After having purchased three allotments of land in 1879, Joseph Tivey contracted local builder W, Garland to build this fine home in 1881 at a cost of £1300. the house was built with thirteen rooms to accomodate the fourteen Tivey children and had a lavish and extensive garden. Joseph was the proprietor of a general merchandis and liquor store in Brooke Street. Following his death the house was occupied by his son, Sam Tivey.
Joseph was a Justice of the Peace in his later years and was also Mayor of the Borough of Inglewood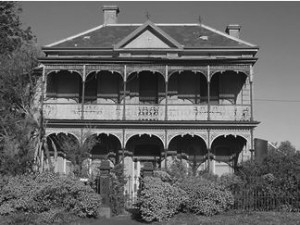 on several occasions. Sadly, Joseph committed suicide when he lost quite a lot of his fortune on land deals. The Argus of Thursday, 22 June 1893 reported:
THE SUPPOSED SUICIDE AT INGLEWOOD, DISCOVERY OF MR. TIVEY'S BODY.
Inglewood, Wednesday. All doubts as to the cause of the disappearance of Mr Joseph Tivey, which was noticed in The Argus of this morning, were set as rest today, by the discovery of his body in the Columbian dam. Numbers of towns-people were out searching the scribe last night by means of lanterns until a late hour and the search was resumed at daybreak this morning. It was not, however, until the close upon 11 o'clock that the hat of the missing gentleman was discovered floating in the dam. A shooting punt was obtained from town, and Thomas Healy commenced to drag the dam, but without result. Attention was then called to a peculiar object in the centre of the dam, and upon investigation it was found that this was the crown of the head, the body being apparently in an upright position in from 5ft to 6ft of water. The body was quickly brought to the bank, and removed to the deceased residence. A Coroner's inquest will be held tomorrow.
The deceased carried on a very large business as a general storekeeper and wine and spirit merchant, in conjunction with three of his sons. He leaves two other sons besides a widow and three daughters. The deceased was always looked upon as exceedingly well off financially, and he undoubtedly was so, but he lost heavily by land and in connection with different financial and other ventures, though not to such an extent as to financially cripple him. He had been in weak health lately, and suffered from sleeplessness. He was a justice of the peace and a borough councillor, and was several times mayor of the borough. The flags in the town have been flying half mast all the afternoon.
Joseph left quite a legacy despite his failing stock with newspaper's reporting his estate was valued at £15,477.
Joseph's youngest son, Edwin, was born 1866 in Inglewood and as a youngster he helped out in his father's shop. He was educated at All Saints Grammar School, St Kilda, and at Wesley College, Melbourne. He chose not to go to university, instead opting to return home and study while working to eventually become an accountant; and later joining the military becoming lieutenant in the Inglewood detachment of the Victorian Rangers in 1889. He was soon promoted to captain in 1891. In 1894, Edwin was elected to the Inglewood District Council where he served for 5 years.
In 1900, Edwin served in the Boer War in South Africa as a captain in the Victorian 4th (Imperial) Contingent. His regiment was involved in many operations and he was mentioned in dispatches on several occasions. Edwin was awarded the Distinguished Service Order for leading forty troops on a forced march to Philipstown in February 1901. His men drove back over 300 opponents, occupied the adjacent kopjes and held them there until reinforcements arrived.
After the war he returned to his hometown of Inglewood becoming a member of the Melbourne Stock Exchange in 1906 dealing in stocks and shares, he then married a Melbourne native, Annie Bird Robb, and two children Violet and Edwin Peter naturally followed. By this time Edwin was captain of the new 9th Light Horse Regiment of the Victorian militia and in 1906 he was appointed brigade major of the Victorian 3rd Light Horse Brigade becoming the regiment's commander in 1911. He received the Volunteer Officer's Decoration in 1910.
During World War 1, Edwin was appointed temporary brigadier general and, in 1916, he and his regiment were involved in the Battle of Fromelles. He continued to fight on the Western Front until the war ended in 1918, despite being wounded in action in 1916. He was apparently renowned among his men for his sincerity and concern over their well being and, in December 1916, his unit was responsible for the Suez Canal defences where his men were dubbed "Chocolate Soldiers" because they marched for two days through heat and sand to reach their destination. The Brigade was then fondly known as "Tivey's Chocs".
He temporarily commanded the Australian 5th division and was again wounded in Westhoek Ridge, Belgium, as well as suffering from a gas attack in May 1918. He was mentioned in dispatches six times during the war and appointed CB in 1917. In August 1918, in the great ally offensive his brigade captured over 800 prisoners and over 80 machine-guns and in 1919 he was awarded a Most Distinguished Order of Saint Michael and Saint George (CMG) – an award used to honour individuals who have rendered important services in relation to Commonwealth or foreign nations.
Between 1921 and 1926 he commanded the 2nd Cavalry Division of the Citizen Military Forces, later returning to his stockbroker role and residing in Toorak a suburb of Melbourne, Australia. There are several streets in Melbourne named after the gallant General Tivey. He died in his 81st year at the family's small mansion in Toorak, reputedly leaving over £75,000 to his spinster daughter Violet. Sadly his only son Edwin Peter – a war hero in his own right – died in Italy in 1943 after being captured.
And so we end the Tivey family's journey from humble beginnings of stocking makers in the market town of Melbourne, Derbyshire to rich pickings and tales of military honour of the family members who settled in Melbourne, Victoria, Australia.
Researched and written by Janet A Tivey (Member 1146), admin@tiveyfamilytree.com

Thanks to Monaro Pioneers, The Argus (Newspaper, Victoria), State Library of New South Wales, Roger C. Thompson (for information on Edwin's Military Career). www.tiveyfamilytree.com