From Gloucester to the Gold fields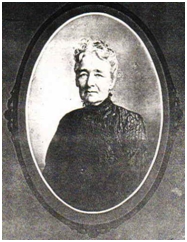 Frances Jane Morris Morse was the second daughter of Richard and Ann Morse and was born in 1846 in Gloucester, a city in the south west of England about twenty miles from the Forest of Dean, where her father had originated. In 1862 her eldest sister Emily Anne had married and soon after emigrated to Australia with her new husband Charles Jennings. Three years later, in 1865 at the relatively young age of nineteen, Frances took the bold step of following her sister to Australia. She sailed alone on the Montmorency intending to stay with Emily in Sydney but disembarked at Bowen, thinking she was in Sydney. Realising her mistake she had no option but to stay there. Luckily she had met a family on board who had befriended her and they offered her a job as governess to their children.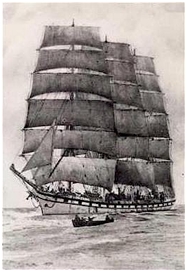 The Montmorency was the first official immigrant ship to sail to the new state of Queensland in 1860 and did four other voyages.
This was to change the whole course of her life down under as it was in Bowen that she met a young American, Richard Bradby. Richard was originally from Virginia, in the United States of America but was now resident in Australia and a year later they were married. Frances went on to have several children but family rumour, which has not been proved, is that three of them, Roynon, Sterling and Florence, who died as an infant, were fathered by Richard but another child, Joseph Nash Harland, was given away and raised by his father of the same name. He was said to have returned to the family when he called himself Ryan, the surname of his stepfather David Joseph Ryan. It is of course possible that not all the children were illegitimate and Frances put them down as such to keep Richard's whereabouts hidden and only Vida was David's. Joseph may have been adopted because of financial difficulties and the Harlands had no children of their own.
Richard Bradby known as "Black Jack Bradby", was an inveterate gambler who turned to horse stealing amongst other things to pay his debts. Disaster was to strike the family when Richard upped and left and no more was seen or heard from him again. The family was left to survive in the goldfields, a truly desperate time and it was a full seven years before he was declared dead and Frances could marry again.
It is possible that Richard Bradby, who was born in 1830 in Virginia, USA was linked to a Richard Bradby entered in the 1870 USA census as living on an American Indian reservation with a Frances E Bradby (widow of a Sterling Bradby (1825-1864) and her children, Charles and Virginia.
There were many inhabitants on this reservation with the name of Bradby, and it is interesting to note the Christian name of Sterling which is the name also given to Richard and Frances's son, Sterling Etheridge Bradby – the Etheridge refers to the mining area near Chillagoe in North Queensland where they lived. Sterling drowned in the Tate River whilst attempting to cross it on his way home for Christmas in 1917 at the age of 46. His brother Roynon also came to grief in a flooded river. Although rescued, he died of pneumonia a few weeks later, in 1899 at the age of thirty one.
A condition of the 1870 US census was that Indians resident on a reservation had to be present at the time of the census if they wished to retain their right to land ownership. This could be a possible explanation for Richard's disappearance. The husband of Frances Bradby, Sterling Bradby, was killed by his brother William Terrill Bradby supposedly in a drunken fight. Richard may well have taken up with Sterling's widow when he returned to America. As for William Terrill Bradby, who was in the Union Army when he killed his brother, he was subsequently court-martialed and received a light sentence. Richard's exact relationship to him is still not certain.
James Mooney of the Smithsonian states that the numerous Bradbys of Pamunkey and Chickahominy tribes all have descent from a white man, William Terrill's great grandfather who about the time of the Revolutionary period married a Chickahominy woman. It is quite possible that Frances might not have known Richard was a native American.
In 1887 Frances married David Joseph Ryan and by this time they had had three children, Alice Mary Frances, William Patrick Francis, and Vida Emily. Alas, history was to repeat itself as David Ryan, a heavy drinker, also disappeared around 1887 in the Palmer river goldfields, with speculation that he may have been killed by Aboriginals. This part of the world was definitely frontier country, a tough place for a woman to survive with a family and no reliable partner.
Frances's eldest child by her second husband, Alice Mary Francis Ryan was born in 1880 and at the age of nineteen (the same age as when her mother had emigrated from England) married Frank Armstrong Hargreaves, an Englishman from Congleton in Cheshire, who had arrived in Cairns in 1892 at the age of seventeen on the Jeluga.
It is believed that his uncle (Captain A Mann from London) captained the ship. Frank supposedly got off the ship without his uncle's permission on Thursday Island (situated at the top of old Queensland) and swam to the Jardine river where the Jardine family took him in. He got a job with the legendary stage coach firm Cobb and Co. and eventually got a coach of his own, carrying supplies to mining settlements in Outback Queensland. He became a cattle grazier with a large property (147 square miles) called Amber Station in Fossilbrook, described as the wildest country imaginable. Frank and Alice reared a large family of five sons and four daughters. The running of Amber Station was a family affair, Alice's sons were all stockmen there. Two of his sons predeceased him, Francis Roynon died in 1942 and William Henry in 1922 at the young age of seventeen.
Alice's sister Vida Emily was living with her husband John William Leonard and family at Sunnymount, Chillagoe until the 1930s, when they took over the Espanol Hotel at Lappa Junction.
Vida's husband died in 1937 so she earned her living as a hotel proprietor right until her death in 1969.
The following is an extract from the Cairns Post, Saturday, 20 October 2001.
The timber and corrugated iron pub was built in 1901 by a Spanish teamster known only as Mr Barbra, whose love of his homeland is reflected in the hotel's name. Espanol is Spanish for Spaniard. The pub must have seemed like a little slice of luxury for the miners and their wives from the local mining camps. Their tough homes consisted of a bit of tin perched on top of a few kerosene drums with hessian bags for walls. People would come to the Espanol for their honeymoons. It must have been pretty flash – good beds with mosquito nets and all the meals provided. For any woman out here at that time, not having to cook or carry water would have been a big treat. As well as the miners, Barbra's pub catered for the 500 or more railway workers who serviced the Mareeba line, which reached Lappa in 1900 and the copper rich nearby town of Chillagoe the following year. In 1902, Lappa became an important rail junction when a branch line was built south to Mt Garnet to service its new copper smelter. The town's mineral rush was short lived and the line was eventually removed in the 1960s.
Lappa takes its name from nearby Lappa Lappa Creek (Aboriginal for permanent water) where famous Afghan cameleer Abdul Wade watered his camels as he hauled minerals out of Chillagoe and Mt Garnet. In its hey day in the early 1900s, Lappa was home to about 1000 people, with the hotel the centre of the town's social life and the venue for all the local weddings, parties and dances.
In 1923, the Espanol was bought by William and Vida Leonard who built an adjoining house in the 1940s and ran the pub until Vida's death in 1966, when the licence was surrendered. One of the highlights of this period was during World War 2, when the Leonards ran tearooms next to the railway station to cater for the 30,000 allied troops using the line. Anyone in uniform scored a free cuppa. The Lappa Leonards also built an air raid shelter under the big mango tree behind the hotel. The Leonards were forced to grow all their own food as the road to Mareeba was so rough. What is now a forty minute journey used to take six hours and was impassable in the wet season. The Leonards kept chickens, cattle, goats, pigs and horses and had a large vegetable garden. Tobacco was also grown near the creek until the crop was washed away by floods.
The "William" referred to is John William, "Willie", eldest son of William Leonard, the storekeeper at Sunnymount, not far from Lappa Junction on the Mt Garnet line.
Built in 1901 the Espanol Hotel served the travellers and locals until 1966. It was constructed of round bush timber and galvanised iron, the Lappa (bring your own) bush pub still remains as the only example of a once common mining town building. It still survives as a museum and BYO and advertises itself as "a century old tradition of bush hospitality amongst the stark beauty of the outback." A real wild west town.
Despite its remoteness the Cairns Post regularly reported functions held "at the residence of Mrs V E Leonard at Lappa Junction. In 1935 a dance was held in aid of the Petford Cricket Club and described as "A Happy Occasion" and "A dainty supper was supplied by Mrs Leonard" and the description of the beautiful dresses worn and waltzes to the music of violins, concertinas and flageolet paints a picture far removed from the harshness of the outback.
The Australian media in the first half of the twentieth century regularly reported the social activities and comings and goings of the ordinary citizen much as they do for celebrities nowadays. Visits between the Hargreaves and Irwin's Amber Station and Kuranda (Frank Hargreaves's daughter Minnie Jessie and her husband Joseph Nicholas Irwin.) were a regular feature of the gossip columns. In 1937 the Cairns Post reported that "Mr & Mrs R Hargreaves who were married at Amber Station last week, spent a few days with Mr & Mrs Irwin, Kuranda and left by Tuesday's boat from Cairns for Magnetic Island, where they will spend part of their honeymoon." 
Even visits to hospitals were recorded; the Cairns Post reporting in 1948 that "Mrs F Hargreaves of Amber Station, Fossilbrook, leaves by this afternoon's plane for the south to seek medical attention. She will be accompanied by her son Norman, who will return by tomorrow's plane." Five years previously, in 1943, it reported that "Miss Grace Hargreaves of Amber Station, Fossilbrook left last Wednesday for Brisbane where she will visit her sister, Mrs Kelvin Grainger-Smith who has been seriously ill in a private hospital for some weeks". Frances Vida Grainger-Smith at one time ran a beauty salon in Darwin called Valmae Frocks and Beauty Salon.
Weddings and funerals were also widely reported, because of the vastness of the country and communications in those days, the newspapers would perhaps be the only source of information for local inhabitants.
As well as losing children in their infancy, Frances lost two children in adulthood. Roynon Morris Bradby her first-born died at Irvinebank in 1899 at the age of 31 leaving a wife and two children. Another son, Sterling Etheridge Bradby died on 1 December 1917 drowned in the Tate River at the age of thirty six.
Frances died in 1922 at the age of seventy six at the home she had lived in for most of her married life with her large family, children and grandchildren around her. She had had a life tinged with sadness but was evidently a strong yet loving woman, a pioneer in every sense of the word choosing to spend her life in the Australian outback, far removed from her home city of Gloucester in England. It is not known whether she had any contact with Emily before she and her husband W J Holloway retired to England or her younger sister Maria Margaret who came to Australia towards the end of the nineteenth century and married an ex pat Englishman, before herself returning to England for the rest of her life. One thing is certain Frances adapted herself to life in the Australian outback, never venturing out of the country of her adoption again.
Janet Rigby
Member 1314