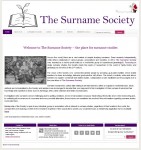 One thing that family historians/genealogists are concerned about is the preservation of their study. In order to assist our members with this difficult problem, a new facility is now available on The Surname Society website.
If you wish to preserve your study, the Society now offers the facility for you to upload a gedcom file of your study data to the website and to record who you wish the file to be forwarded to in the event of you being unable to continue your study.
An additional benefit of this facility is that, if you so choose, the data in your gedcom file can be added to the Society database. This database allows members only to search to see if you have a record of the surname they are studying in your file and then make contact so that you can both collaborate on researching that individual if you so desire. The search will not show entries in the database submitted by you.
You can choose whether to have your data available in either or both of the Archive and Database.
This facility is currently only available for gedcom files. We will look to extend to other file types in the future.
It takes a little while to process your data for addition to the database, during that time you must remain on the archive submission page. As a result, we suggest that you keep your gedcom file to around 1mB in size or 1,500 individuals. You can submit multiple gedcom files if your study exceeds these numbers or upload a larger file but be aware that the processing time may be lengthy. A file of over 65,000 records has been imported during testing but it did take a while to process.
If you wish to update a file once you have originally submitted it, please do not use the Archive data entry form – contact the webmaster who will assist. The update facility will be released to members in due course.
The Archive data entry form is available here.
The database search facility is available here.